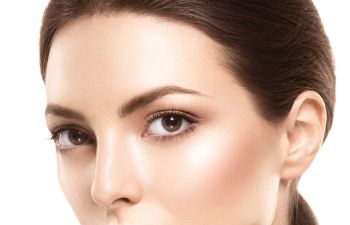 Your eyes can be one of the first features on your face that can show signs of aging. Over time, the tissues around your eyes can weaken. As a result, fine lines, sagging and puffiness can form around the eyes. Eyelid surgery can help counteract these effects to help you look and feel younger. Here are three signs of aging you can correct with eyelid surgery.
Droopy Upper Eyelids
As you lose collagen production from aging, your eyelids can droop and make you look tired.  Drooping can also cause the eyelid to turn inward. This drooping skin can lead to eye diseases and irritation. Eyelid surgery lifts the lids to open up the eye area. This can help deliver a more youthful and alert appearance.
Loose Skin
The skin around your eyes is the thinnest of your body and the easiest to stretch. Excess skin around the eyes can impact your vision and cause discomfort. During eyelid surgery, loose skin and excess fat is removed above and below your eyelids. Incisions are made inside the lash lines to reduce the appearance of scarring.
Under Eye Bags
As you get older, the muscles in your lower eyelids can weaken and start storing fat. Under eye bags are the result of loose skin and these fat pockets that develop underneath the lower eyelids. Eyelid surgery helps remove the excess fat and skin to help provide firmness and support to muscles under the eyes. As the skin is tightened and smoothed, you can also see a significant reduction in the appearance of dark circles and hollowness under the eyes.
Discover if Eyelid Surgery is Right for You
If you are starting to notice signs of aging around your eyes, eyelid surgery can be a viable solution for a more youthful appearance. This surgery is one of the most popular cosmetic procedures for both men and women and can be combined with other facial rejuvenation treatments. Dr. Joseph J. Rousso specializes in eyelid surgery and other cosmetic procedures to help individuals look and feel their best. The rejuvenating effects of the surgery can last you a lifetime. To discover if eyelid surgery is right for you, schedule a consultation today.
Posted on behalf of New York Facial Plastic Surgery
247 Third Avenue #404
New York, NY 10010
Phone: (212) 381-6110