Osteoma Removal
Osteomas are bony protrusions that can appear in the forehead area, either at birth or later in life. While some may cause discomfort, the biggest concern for many is the disfigurement they can cause to the face. These bony growths can be removed, and the procedure is relatively quick and minimally-invasive. Dr. Rousso offers osteoma removal as one of his many eyes & brows surgeries at our clinic in NYC.
An osteoma removal can be performed as an outpatient procedure, accessing the bony growth under the skin and creating a smooth surface to the skull. Osteomas are usually not interconnected with other tissue, only attached to the surface of the skull. Before the procedure, x-rays and possibly a CT scan are performed to ensure the osteoma can be superficially removed without impacting any other areas of the head or face. In most cases, the procedure can be performed in less than an hour, right at our clinic in New York City.
Endoscopic Osteoma Surgery
Most osteomas are located between the hairline and brow, making them very visible. Depending on the exact location of the protrusion, a small incision can be made either at the site of the osteoma or hidden in the hairline. The procedure is done endoscopically, meaning the incision is very small and tiny instruments are used to remove the growth. This helps minimize the size of the scar and reduces the discomfort and recovery time after the procedure.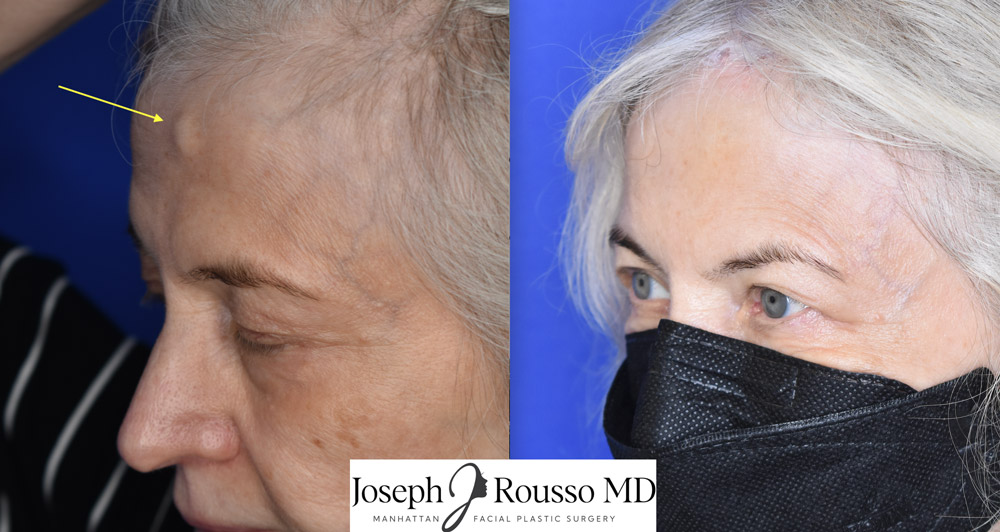 If you have been living with an osteoma and are interested in having it removed, Dr. Rousso is an excellent choice for this procedure. His extensive experience and expertise as a double board certified facial plastic cosmetic and reconstructive surgeon ensures you are in good hands. Contact our office in NYC to schedule your consultation to learn more about undergoing osteoma removal surgery.