Kybella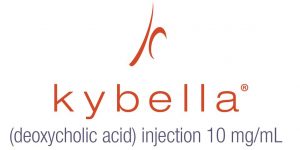 Fat accumulation under the chin is a common issue at any age, even for those who are height-weight proportionate. The excess fat can create a double chin, impacting the definition of the jawline, chin and face. While surgical options like liposuction and neck lift procedures can eliminate the double chin, another option is Kybella injections. Dr. Rousso offers Kybella treatments for excess fat under the chin at our facial plastic surgery clinic in New York City.
Fat under the chin can distort the shape of the face, making it look older, chubby or less defined. When the fat is removed, the profile of the chin and jawline is more chiseled and the beginnings of a "turkey gobble" is eliminated. For both men and women with this issue, treating a double chin with facial fillers and injectables can help them get the appearance they desire, helping improve their self-confidence.
Non-Surgical Double Chin Treatment
Kybella offers an alternative to liposuction or plastic surgery. Kybella is an injectable serum that targets fat cells, destroying their structure. The fat cells dissolve, and they are reabsorbed by the body. The treatment is quick and virtually painless, with results appearing over the following weeks and months after the injections. Many patients can have the desired effect with two treatments spaced 4-6 weeks apart, with additional treatments needed for some individuals.
Reducing a double chin can help create a more youthful and attractive appearance, improving self-confidence. While Kybella injections cannot replace a neck lift as it does not impact excess skin, it can shrink fat pockets and create a slimmer, better defined chin and neck without the need for more invasive procedures.
If you are interested in learning more about double chin reduction with Kybella treatments, schedule a consultation with Dr. Rousso at our Manhattan office. We offer many options in surgical and non-surgical cosmetic facial treatments to help you look your best at any age.