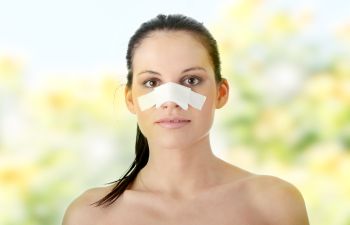 A successful recovery is crucial to achieving optimal results after rhinoplasty. This recovery period typically lasts around two weeks or more. Many patients desire to recover as quickly as possible without complications, so they can see their final results. There are a few things you can do to help make your recovery quicker and easier by minimizing discomfort and potential injury risks. Here are four tips for a speedy recovery after rhinoplasty.
Protect Your Nose from Sun Exposure
During your rhinoplasty recovery, you will need to protect your nose from the harmful ultraviolet rays of the sun. You may experience permanent nose discoloration with unprotected sun exposure. Wear protective clothing and apply a 30+ SPF sunscreen.
Keep Exercise Light During Rhinoplasty Recovery
After your rhinoplasty, you will need some time to rest and recover. When your doctor gives the approval for exercise, you may want to keep physical activity light. Avoid sports that can put your nose at risk of being hit. Choose exercises that limit up and down movements.
Wear the Right Clothes and Accessories
You may want to choose baggier clothing during your rhinoplasty recovery that will not come into contact with your nose. Button-up shirts can minimize the risk of bumping your nose when you are getting dressed. Avoid reading glasses or sunglasses. If you need to wear glasses, you may want to tape them over the bridge of your nose while it is healing.
Limit Facial Movement
After your rhinoplasty procedure, you may experience some swelling that may last for a few weeks. Certain facial movements can impact the results of your surgery. You may want to limit laughing and smiling to minimize any discomfort while your nose heals. Choose foods that are easier to chew and avoid opening your mouth too wide.
Interested in Rhinoplasty?
Rhinoplasty can help enhance your appearance and improve your health and well-being. With the right care, you can quickly recover after the surgery and get back to all the things you enjoy. Dr. Joseph J. Rousso is a double board-certified surgeon specializing in facial reconstructive surgery. He can explain the best practices after recovery so you can experience optimal results. Call to schedule a consultation today.
Posted on behalf of New York Facial Plastic Surgery
247 Third Avenue #404
New York, NY 10010
Phone: (212) 381-6110