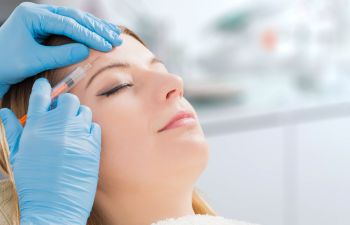 Most people know Botox® is wonderful for smoothing frown lines and crow's feet. For over 20 years, Botox has been FDA-approved for treating dynamic lines and wrinkles, but it has many other cosmetic uses beyond wrinkle control. Botox injections are safe, quick and require no downtime, which is why so many of our patients love this treatment option. Here are five innovative cosmetic treatments using Botox beyond fighting frown lines.
1. Botox Lip Flip
Everyone wants full, youthful lips. The Botox lip flip is one of the most popular options for improving the upper lip fullness and shape. A quick injection of Botox to target the upper lip muscles can result in the lip curling up, revealing a fuller upper lip.
2. Brow Lift
The eyebrows can shift downward with age, resulting in a loss of the youthful arch. Botox treatment can be used for a non-surgical brow lift by relaxing muscles that pull down the brows, allowing the brow to slightly elevate for a more youthful appearance.
3. Face Slimming
The masseter muscles are the main jaw muscles that open and close the mouth. When these muscles become enlarged, it can create a wider face and square jaw. To slim and feminize the face, Botox injections can be used to relax the masseter muscles. Over a few months, this can slim the face and create a more heart-shaped appearance.
4. Soften Neck Cords
The vertical neck cords or bands may become more pronounced with age. If you want to soften the neck cords for a more youthful appearance, consider Botox injections. This can smooth the neck and keep it looking younger.
5. Nose Reshaping
An experienced plastic surgeon like Dr. Joseph J. Rousso knows the best ways to reshape a nose for a better facial balance. Botox injections can be used in a non-surgical nose job to lift the nasal tip or smooth bunny lines.
Botox injections can be performed in less than a half an hour with no recovery time needed. If you are interested in Botox treatments for frown lines, nose reshaping, lip flips or any cosmetic procedure, call the office of Dr. Joseph J. Rousso, MD FACS in Manhattan.
Posted on behalf of New York Facial Plastic Surgery
247 Third Avenue #404
New York, NY 10010
Phone: (212) 381-6110