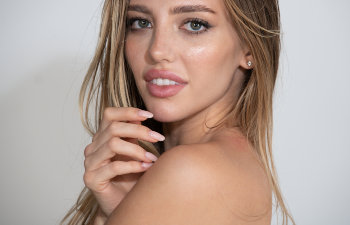 Whether you just want to hide evidence of aging or you have an upcoming event where you want to look your best, you may be considering a facial cosmetic treatment. There are so many non-surgical cosmetic procedures that can create stunning results without the downtime and recovery of plastic surgery. At Dr. Joseph J. Rousso, MD, FACS plastic surgery center, we offer the latest non-surgical cosmetic treatments. Here are six of our favorite non-invasive facial enhancements we offer at our clinic in NYC.
1. Lip Augmentation
Full, plump lips are desirable for a youthful and attractive appearance. Lip filler injections or a Botox® lip flip can be performed in a brief office visit with no downtime required. The results can last four months or longer, depending on which procedure or product you choose.
2. Erase Dynamic Lines
Do you have frown or worry lines on your brow? Crow's feet around your eyes? Botox or other neuromodulators can smooth away dynamic lines that occur with facial movement. This quick treatment can give you a more youthful and happier appearance for up to four months.
3. Chin or Jaw Augmentation
Facial fillers are wonderful for contouring the face, including the chin and jaw. If you have a weak chin or a poorly defined jawline, fillers can create the lower face you desire. The results are immediate, improving your facial balance.
4. Liquid Rhinoplasty
Do you have a droopy nasal tip, crooked nose, wide nostrils or bumps on your bridge? Liquid rhinoplasty uses neuromodulators or dermal fillers to change the shape of your nose with a non-invasive treatment.
5. Cheek Fillers
Do you have bags under your eyes due to sunken cheeks? Do you have smile lines along your nasolabial folds? Cheek filler injections can contour your midface to create a more youthful appearance and hide bags under the eyes.
6. Temple and Eye Rejuvenation
Sunken temples and deep tear troughs can impact your eye appearance. Filler injections can plump indented temples and smooth tear troughs for more alert and youthful eyes.
There are many cosmetic treatments that can give your face a rejuvenated appearance without downtime. Call the office of Dr. Joseph J. Rousso, MD, FACS to schedule a cosmetic consultation to address your facial concerns with a non-invasive procedure.
Posted on behalf of New York Facial Plastic Surgery
247 Third Avenue #404
New York, NY 10010
Phone: (212) 381-6110