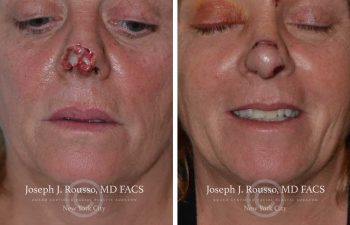 Do you have a facial scar or a recent injury that's changed the appearance of your profile?
Whether it's due to an automobile accident, previous surgery, or even a recreational injury, the reasons for needing facial reconstructive surgery in NYC are diverse. They often range from cancer treatments and cleft lips to domestic violence and athletic trauma.
As a double-board certified head and neck and facial plastic surgeon, Dr. Rousso is extremely attentive to the details when it comes to putting your "best face forward".
While incorporating different plastic surgery techniques, we always work to minimize the evidence of scarring or past surgeries that alter the way you look. As a specialty practice that focuses on plastic surgery of the head and neck — including delicate tissues like your eyes, nose, lips, and ears — we understand how crucial the outcome of your treatment is in conjunction with the actual surgery.
Dr. Rousso has completed thousands of facial plastic surgery procedures at our office in Manhattan over the last several years. So much so, that people come to us from all over New York, the United States, and abroad for their care.
When you're here for your facial reconstruction consultation, we'll share a portfolio of dozens of similar surgeries that fit your needs, so that you can see real-life before and after results of other cases we've completed. Don't just take our word for it; see it for yourself.
Dr. Rousso's discernment, attention to detail, and understanding of the unique physical and emotional aspects of facial plastic surgery are just some of the reasons why people turn to us for the expert care they're looking for.
To see some more of our before and after cases, click here or schedule an in-house consultation at our Manhattan practice.
Posted on behalf of New York Facial Plastic Surgery
247 Third Avenue #404
New York, NY 10010
Phone: (212) 381-6110