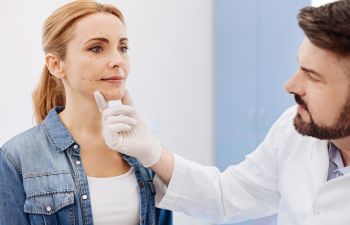 Facial paralysis can be brought on by several different factors, but the result is the same, loss of function and loss of confidence. Fortunately, many cases of facial paralysis can be improved with reconstructive and cosmetic surgery procedures.
Causes and Effects of Facial Paralysis
Facial paralysis can be brought on by several conditions. The most common cause is Bell's Palsy, which is actually a diagnosis of exclusion when all other diagnoses have been ruled out. This type of paralysis is sudden and occurs on one side of the face. Facial paralysis can also be triggered by stroke, trauma, tumors, viruses and Lyme disease. In cases of paralysis, it can be difficult to eat or drink, the patient may lose the ability to control blinking on the affected side and speech may be slurred. Some facial paralysis can cause pain in or behind the ear.
Treatments for Facial Paralysis
Treatment is contingent on the cause for the paralysis. In cases of Bell's Palsy, most patients recover fully with simple treatments such as oral steroids or antiviral medications. Most patients fully recover within six months. For other causes, treatment may be more invasive. Some types of paralysis will not reverse on their own, and the results of paralysis may be permanent in some cases. Surgical procedures to help improve facial function such as smiling, chewing and blinking can also help achieve better appearance, boosting confidence.
Facial paralysis can not only be traumatic, but can cause the sufferer to feel less secure in his or her own body. Dr. Rousso approaches these conditions with compassion and the necessary skill to help repair, correct and improve facial movement. If you suffer from facial paralysis but are unsure about proper treatment, Dr. Rousso and his team are here to help. Schedule your consultation today to find out more.
Posted on behalf of New York Facial Plastic Surgery
247 Third Avenue #404
New York, NY 10010
Phone: (212) 381-6110