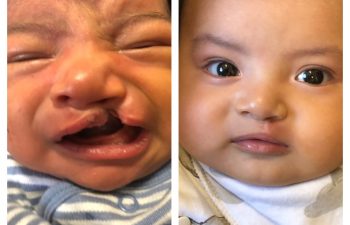 There are occasions when patients seek plastic surgery for young children. These procedures are designed to remove blemishes or correct birth defects. Dr. Joseph J. Rousso offers a range of pediatric treatment options at his New York offices.
Parents have various reasons for reaching out to Dr. Joseph J. Rousso for pediatric plastic surgery. Concerns about a child's self confidence and quality of life are chief among them. Moles, scarring and ear deformities are easily repaired with the right procedures.
Disfiguring Facial Moles
Even benign moles can cause issues for young children. These growths are often large and disfiguring. Dr. Joseph J. Rousso can remove moles safely and effectively. Your child will grow up without the stigma of what is viewed as a deformity.
The main goal is removing moles without leaving a visible surgical site. As an experienced plastic surgeon, Dr. Joseph J. Rousso has the skills to significantly reduce or eliminate scarring. Our pediatric patients will grow up feeling more confident when highly visible moles are removed.
Pediatric Scar Revision
Scars occur due to injuries or previous surgeries. In some cases, an injury will heal in a way that leaves significant scarring. Young patients will feel self conscious and may experience bullying from peers. Concerned parents can avail of a consultation in New York with Dr. Joseph J. Rousso.
Some patients experience what is known as keloid scarring. This type of scar can occur due to injury, hair removal, insect bites or for no clear reason. If your child has facial keloid scars, turn to Dr. Joseph J. Rousso for revision procedures.
Ear Reshaping or Pinning
The ears are often the object of derision due to shape or protrusion. There are different procedures available, depending on your child's needs. In some cases, simply suturing the ears to the scalp can resolve the problem. However, Dr. Rousso may need to remove a small portion of cartilage to help reshape the ears.
Young children may express concerns about facial anomalies when they enter the school system. Dr. Joseph J. Rousso is a compassionate, board-certified plastic surgeon. He is passionate about pediatric care and wants the best for all his young patients.
Call today if you would like to consult with Dr. Joseph J. Rousso at his New York offices.
Posted on behalf of New York Facial Plastic Surgery
247 Third Avenue #404
New York, NY 10010
Phone: (212) 381-6110