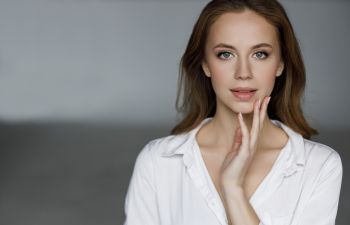 Seeking aesthetic perfection is a worthy goal but there are pitfalls along the way. Listening to recommendations from peers could lead you down the wrong path. Just because you can change facial features, doesn't mean you should.
Human facial features are typically balanced and symmetrical. For certain people, this relationship is not aesthetically pleasing. For instance, you may not like the size and shape of your nose. However, that perception is not necessarily reflective of what is causing imbalance.
Cosmetic Surgery Consultation
The first thing you should do is seek a consultation with a cosmetic surgeon. It may transpire that the feature you hate is your most attractive one. While it is ultimately always your choice, getting feedback from a professional can provide a more informed perspective.
Dr. Joseph J. Rousso, MD, FACS is a consummate professional who is passionate about helping you reach cosmetic goals. There is no obligation to follow the herd. We can recommend features that will benefit from improvements.
Nose Surgery
The nose is a central facial feature. As such, balance is often upset by a crooked, large or misshapen nose. Rhinoplasty is an extreme solution in many cases. However, Dr. Joseph J. Rousso, MD, FACS can make subtle changes to enhance your overall facial features.
Eyes & Brows
The eyes and brows can betray your age. Removing lines or a brow lift may improve your facial balance. Rejuvenation is also achievable when you make improvements to these prominent features. By removing excess eyelid skin, you can effectively roll back the years.
Injectables & Fillers
For a minimally invasive solution to aging, you may want to consider injectables and fillers. You can remove fine lines, enhance certain features and subtly change your looks so family and friends won't notice the difference.
Lip Procedures
The lips are one of the most desirable facial features. If you can enhance the mouth, your youthful looks will benefit from rejuvenation. That kissable smile may open doors to new relationships, jobs or transform how others perceive you in general.
Call Dr. Joseph J. Rousso, MD, FACS for a consultation. We work to see that your rejuvenation goals are focused on benefits rather than expectations.
Posted on behalf of New York Facial Plastic Surgery
247 Third Avenue #404
New York, NY 10010
Phone: (212) 381-6110