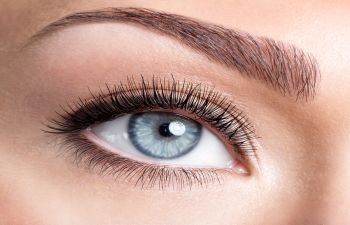 As you age, your skin loses collagen which causes it to sag. Also, the muscle tone around your eyes decreases. Droopy, sagging eyelids can make you look tired, and appear older than you are. This condition can be so bad that your droopy eyelid impairs your eyesight. Eyelid surgery in New York City can give you back your youthful glow and improve your vision.
Blepharoplasty (Eyelid Surgery)
Your eyelid surgery will take a total of about 60-90 minutes. While being worked on you'll be under sedation, meaning that your mind will be in a relaxed state and you'll be unaware of what we're doing. This is very helpful for those folks that are anxious about having surgery.
During eyelid surgery, Dr. Rousso will make a small incision within the natural creases of your eyes, making sure that the resulting small scar won't show. He will then trim excess fat and skin from the upper and lower eyelid. The goal is to give you a youthful appearance without making you look "worked on". This is done through using the latest techniques and innovations in facial plastic surgery that Dr. Rousso is an expert in.
Best Plastic Surgeon in New York City
If you're looking for a world-class plastic surgeon to do your eyelid lift and other cosmetic treatments, then come to see Dr. Rousso in New York City.  When visiting our office, you'll see why so many people have chosen us to be a part of their transformation. Don't wait any longer.  Call today to schedule a consultation and see what we can do to help you have healthy looking, beautiful eyes!
Posted on behalf of New York Facial Plastic Surgery
247 Third Avenue #404
New York, NY 10010
Phone: (212) 381-6110