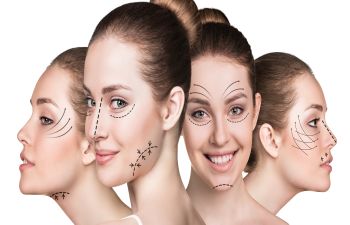 If you've experienced a serious injury such as an automobile wreck, traumatic accident, or have even been the victim of domestic abuse, the scars left behind can be far greater than skin-deep. But for the ones that show, you need a great facial plastic surgery team who can help you look and feel confident again.
Here are a few things you should keep in mind when you're trying to find the best facial or reconstructive plastic surgeon:
Experience and Services Offered — Does the surgeon specialize in a particular procedure, or offer everything from head to toe? Their experience and area of focus often determines just how good they are at what they do.
Board Certified — Look for a plastic surgeon who is recognized by the American Board of Facial Plastic and Reconstructive Surgery. If possible, select one who is also certified by the American Board of Otolaryngology-Head and Neck Surgery. The double board certification will ensure you'll receive the best care in the field.
The Surgical Facility — Where will your reconstructive surgery take place? Does your plastic surgeon have in-house facilities or work with a nearby surgical center? Ask about who will be on staff to oversee sedation and which doctor is performing the actual surgery.
Reviews and Ongoing Care — Your experience isn't over as soon as the reconstructive procedure is completed. You depend on a plastic surgery team who's with you throughout recovery. How well is their communication and attentiveness to your individual situation? Check out online reviews and listen to patient testimonials to get a feel for the practice.
Dr. Joseph J Rousso, MD, FACS is a double board certified facial plastic and reconstructive surgeon in Manhattan. Our clients come from the greater NYC area and throughout the United States. Contact us today to experience Dr. Rousso's care for yourself!
Posted on behalf of New York Facial Plastic Surgery
247 Third Avenue #404
New York, NY 10010
Phone: (212) 381-6110