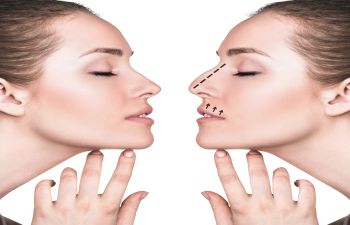 You may already be aware of rhinoplasty as a cosmetic procedure to improve the appearance of your nose. However, rhinoplasty can fix medical issues as well to help you breathe better and live a healthier life. It can also help correct any disfigurement from injuries, trauma or birth defects. Here's a guide to everything you need to know about reconstructive rhinoplasty.
What is Reconstructive Rhinoplasty?
Reconstructive rhinoplasty is more complex than a cosmetic nose job to improve one's appearance. This surgery is designed to repair damaged tissues, bone and cartilage. If cartilage is needed to support the structure of the nose, it may be taken from the patient's ear or rib. Small skin grafts may be used to open up a narrow or distorted airway. Depending on the extent of the injury, multiple surgeries may be required.
You can expect to have some swelling for about a week after the surgery. It will take a few weeks before you fully heal. Make sure to follow any instructions you're given carefully to have an optimal recovery.
Reconstructive Rhinoplasty Benefits
One of the common problems corrected by reconstructive rhinoplasty is a deviated septum. A deviated septum can cause frequent headaches, sinus infections and nosebleeds. By correcting it, a person is able to breathe better. Not being able to breathe correctly can cause a number of health issues such as sleep apnea. If you don't get proper sleep, you can weaken your immune system and develop serious chronic health conditions. This surgery can also help boost your self-confidence and energy levels.
Reconstructive Rhinoplasty Consultation
If you've suffered a nose injury or are having issues breathing in through your nose, reconstructive rhinoplasty may be an ideal solution for you. Dr. Joseph J. Rousso is a double board-certified provider who is highly experienced in handling and correcting complex reconstructive nasal needs. Contact Dr. Rousso today to schedule a consultation.
Posted on behalf of New York Facial Plastic Surgery
247 Third Avenue #404
New York, NY 10010
Phone: (212) 381-6110