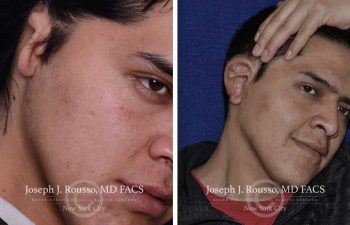 The external part of the ear is made up of cartilage and soft tissue. You may suffer injuries to the ears in an accident, during a high-contact sport or fight. It is important to seek treatment right away for this type of traumatic ear injury to avoid healing complications and infection.
Tears to the ear may not heal properly, leaving you with a visible deformity. Dr. Joseph J. Rousso can provide solutions for repairing the damage at his New York City offices. If you have received treatment for an ear injury which has left pronounced scarring, revision surgery is also an option.
Ear Accident Treatment
Accidents involving blunt force trauma to the ear can cause significant damage. It is also not unusual for earrings to get caught in clothing and other materials. When the ear is torn or detached, plastic surgery is an option for repairing the damage.
Contact Sports Trauma
Athletes such as football players and martial artists are most likely to suffer ear injuries. Blows to the side of the head can result in tears and a condition known as cauliflower ear. If these visible deformities are affecting your confidence, turn to Dr. Rousso for treatment.
Physical Assault
Street fights often lead to vicious assaults that are intended to maim the victim. The ears are an easy target for tearing or biting. Such attacks can cause significant damage and psychological trauma. To help you on your journey to recovery, Dr. Rousso will repair the visible aspects of the injury so you can concentrate on your emotional well-being.
Ear Plastic Surgery Solutions, NYC
There are a range of ear plastic surgery solutions available from Dr. Joseph J. Rousso. At his NYC practice, you can explore options for repairing tears, stretching, cauliflower ear and more. A consultation will allow doctor and patient to establish a relationship and create a treatment plan.
Restore balance to your facial features. If you have suffered ear damage in New York City, reach out to Dr. Joseph J. Rousso today for a plastic surgery consultation.
Posted on behalf of New York Facial Plastic Surgery
247 Third Avenue #404
New York, NY 10010
Phone: (212) 381-6110