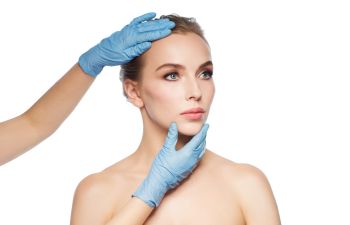 As you age, you may start to notice excess fat gathering around your chin and neck. As a result, you can look tired and older. Removing this excess fat can help reverse the signs of aging so you can feel more confident about your appearance. Here is everything you need to know about how facial liposculpture can help you look and feel younger.
How Does Facial Liposculpture Work?
Facial liposculpture is a cosmetic surgery procedure similar to body liposuction that is performed using local anesthesia. During the procedure, excess fat is extracted from targeted areas in the face and neck through small incisions. These tiny incisions are placed in inconspicuous areas to prevent them from being noticeable to others. This cosmetic treatment can be combined with fat transfers to add facial volume where it is needed most.
Benefits of Facial Liposculpture
Facial liposculpture is ideal for adding volume and smoothing deep lines and wrinkles. During the procedure, small amounts of fat can be removed to contour the face and improve chin definition. Hollow areas around the eyes and cheeks can be diminished to provide a more youthful appearance.
Facial Liposculpture Recovery
The recovery period for a facial liposculpture can take around two weeks. Many patients experience swelling and bruising. Any discomfort can be relieved with pain medication. The surgeon will give you specific recovery instructions after treatment to help you achieve optimal results.
Schedule a Facial Liposculpture Consultation
If you are looking to reverse the signs of aging on your face, facial liposculpture may be the best treatment option for you. To find out if you are an ideal candidate, you will need to make an appointment with board-certified facial plastic surgeon Dr. Joseph J. Rousso. During your appointment, Dr. Rousso can examine your skin and recommend the best cosmetic surgery treatment for you. Schedule your consultation for a facial liposculpture today.
Posted on behalf of New York Facial Plastic Surgery
247 Third Avenue #404
New York, NY 10010
Phone: (212) 381-6110