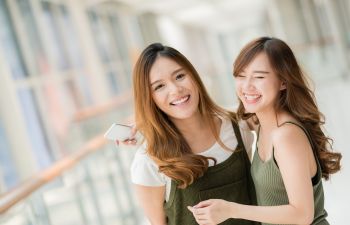 One of the most unique characteristics of people from Asian descent is the shape of their eyes. In most cases, the eyelid is smooth and tight, without a visible fold in the skin when the eyes are open.
While this eye feature is healthy and natural, some of our Asian patients choose to have the shape of their eyelids adjusted in order to make them open wider or appear more alert.
The eyes are an extremely delicate area, so finding a plastic surgeon that specializes in eyelid and Asian eye surgery is vital to ensuring the best results possible.
Options Provided by Dr. Rousso
Depending on the balance of your face and eyelid preferences, one of the types of Asian eye procedures we can offer is removal of a small amount of fat cells from the eyelid itself. This helps to thin the skin, allowing it to fold onto itself and create a "double lid" when your eyes are open.
Double lid procedures can make it easier to enjoy cosmetic products like eye shadow and liner, while adding a youthful appearance to your face. Yet, the overall results still retain your natural Asian characteristics without forcing your eyes to have a more Caucasian appearance.
Also known as a "blepharoplasty," eyelid surgeries are one of the top facial plastic surgery services that we provide in our New York City office.
Asian Blepharoplasty in Queens
Find the right balance between your confident and culturally unique beauty and the added benefits of a skilled plastic eye surgeon. Dr. Joseph J. Rousso is a double-board certified specialist in facial plastic and head and neck surgery. With a convenient location in Manhattan, we serve patients throughout NYC and visiting clients worldwide. Schedule your consultation with us today!
Posted on behalf of New York Facial Plastic Surgery
247 Third Avenue #404
New York, NY 10010
Phone: (212) 381-6110