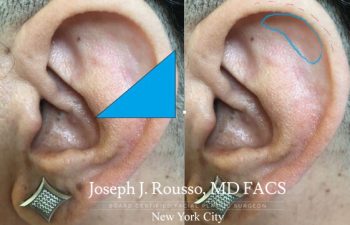 "Macrotia" is a term to describe 'big ears', the opposite of the medical term "microtia" which describes small or non-existent ears. A person who feels that their ears are too large to match the rest of their face may have macrotia.
Ears are a very distinct and unique part of us, they give us character and each of us has a unique set that is nearly as exclusive as the unique set of fingerprints that we possess. I certainly wish that everyone could wear their hair up and display their ears with pride and confidence. Unfortunately, so many of us have anxiety or self-consciousness about letting our ears show. There is no bigger testament to this than the hundreds of thousands of views on YouTube videos which tutor people on how to style their hair to be able to hide big ears.
Although each set of ears is unique, there is data that exists on what is considered the 'ideal normal' ear size, based on anthropometric studies. These generally accepted measurements are between 5-6cm of height (1.96-2.36 inches) and a width that is roughly 55% of the height or about 2.75-3.3 cm (1.08-1.29 inches). Additionally of the total ear height, the ear lobe can occupy about 2cm. (0.78 inches) Variations from these 'ideal measurements' can help us determine a procedure plan when a patient expresses desire to reduce the size of the ears.
The rule that I tell my patients with nearly all cosmetic surgeries, is that when undergoing a procedure for aesthetic purposes you want to make sure that the risks are few and the benefits far outweigh them. It is for this reason, that you should do your research and select a macrotia surgeon who performs advanced aesthetic and reconstructive ear surgeries. The traditional ear reduction surgeries can leave a very unfavorable and very noticeable scar right in the middle of the ear where it can easily be seen. These unfavorable surgeries remove a wedge, the size of the desired ear reduction, from the middle of the ear as depicted in blue in the 'traditional reduction' image. Although this sort of surgery may be acceptable for reconstruction after removal of a lesion or a mass that sits in the middle of the ear, it does not leave a favorable scar for a cosmetic ear surgery. That is why I use an advanced and innovative technique for cosmetic and aesthetic ear reduction surgery that hides all scars within the normal lines and curves of the ear. The basic principle of this technique is that the scars are hidden under the rim of the helix (the top curving portion of the ear) so that it is not visible. The portions of the ear that are removed, called the scaphoid cartilage, reduce the size of the ear without visible external scarring. This technique can be seen in the 'advanced aesthetic reduction approach'. As you can see from the before and after advanced aesthetic ear reduction approach, the technique I use does a beautiful job of reducing the size of the ear with no noticeable incision lines as seen in figure 2 below. For a video depiction of this procedure being performed please visit our YouTube video, however please note that this shows graphic surgical video. You can see the video here.
Please contact Dr. Joseph Rousso if you are interested in ear reduction surgery, ear pinning surgery, otoplasty, microtia, torn ear lobe repair, cosmetic ear surgery, reconstructive ear surgery.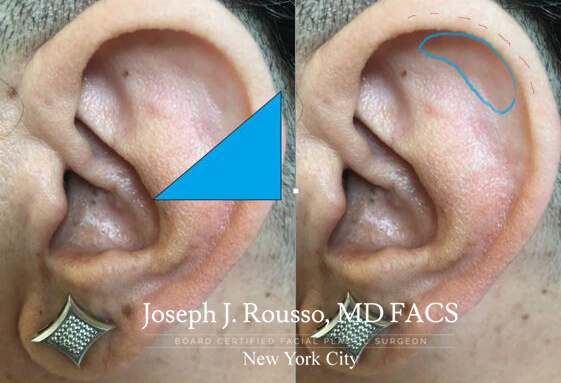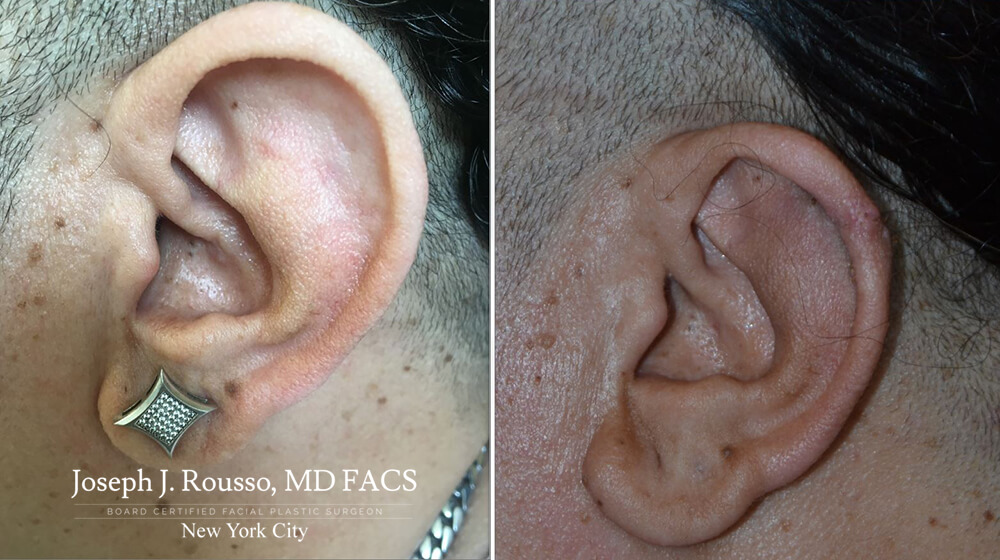 Posted on behalf of New York Facial Plastic Surgery
247 Third Avenue #404
New York, NY 10010
Phone: (212) 381-6110