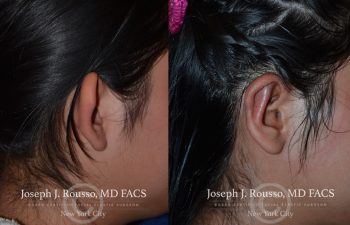 About once in every 6,000 to 10,000 births, one of us is born with a misshaped ear or an ear that's a different size than what's typical. We "grade" these atypical ear shapes starting with minor irregularities to a complete lack of external ear structure.
Ear reconstruction requires particular skill and expertise, especially for more severe cases. One of the techniques that is successfully used for such situations is by taking a part of your own rib cartilage to rebuild the ear with a similar feeling structure that can be shaped to fit the natural contours of ear cartilage. (Other allograft material options are available if rib grafting is not an option)
For most of our microtia patients, we schedule two separate surgeries three months apart. This provides adequate recovery time and minimizes the impact of surgery on your everyday routine. Although we see patients of all ages, the average ear reconstruction case is usually completed on children around the ages of 9 or 10, because by this point most children have enough excess cartilage to spare for their ear repair.
Don't Trust Anyone Other Than an Expert
No matter how minor or severe your microtia needs are, our Manhattan facial plastic surgeon knows that it's extremely important to each of our individual patients to find the cosmetic solutions and reconstructive skills necessary to help them feel and look their best. Dr. Joseph J Rousso MD FACS has completed hundreds of different microtia reconstruction cases for patients in the Manhattan, NYC, Queens, and greater New Jersey areas.
We invite you to schedule a consultation to explore what options are available and view some of the before-and-after cases Dr. Rousso has completed.
Posted on behalf of New York Facial Plastic Surgery
247 Third Avenue #404
New York, NY 10010
Phone: (212) 381-6110