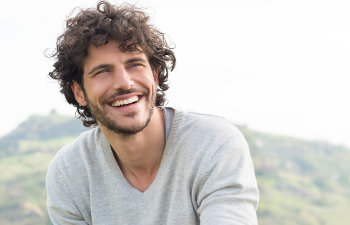 In a competitive career market, age can become a factor. There are many young professionals competing for the same positions as their older counterparts and many mature men may find themselves losing the battle. Fair or not, if you look older or tired due to bags under your eyes or a sagging jawline, your appearance may overshadow your experience. More and more middle-aged men are seeking cosmetic procedures for facial rejuvenation to restore their competitive edge.
Male Facial Plastic Surgery
The most aggressive way to rejuvenate the face is with plastic surgery. The skin and facial tissues change as you get older, losing elasticity and firmness. If you have puffy bags under your eyes or sagging upper eyelid skin, you may look perpetually tired even when you feel energetic. Sagging cheeks and jowls can make your face look heavy and old, which is very noticeable during those video conferences.
Male blepharoplasty or eyelid lift surgery can remove excess skin on the upper or lower eyelids. This can smooth away eye bags and eliminate the droopy, tired look of sagging upper eyelid skin. Male facelift surgery can tighten the lower face and upper neck, creating a more youthful and firmer jawline.
Non-Surgical Facial Rejuvenation for Men
If plastic surgery seems extreme or you are in the beginning stages of facial aging, there are plenty of non-surgical options for facial rejuvenation. More and more men are joining their female counterparts for quick treatments to retain a more youthful appearance. Many non-surgical treatments require little or no downtime but can help you look years younger. Some of the most popular treatments for male facial rejuvenation without surgery include:
Botox injections. Do you have frown or worry lines on your forehead or crow's feet around your eyes? Botox can smooth away those wrinkles and lines that make you look like a grumpy old man. It only takes about 15 minutes, and the results can last up to four months.
Dermal Fillers. If you have deep lines or bags under the eyes, dermal filler injections may create the more youthful appearance you desire. Most facial fillers have instant results that plump under the skin in a quick office visit.
Skin tightening. Sagging skin occurs due to loss of collagen and other factors. Options like Ultherapy offer non-surgical skin tightening by stimulating new collagen to lift and firm the skin using thermal energy.
As an older man, you have more experience and expertise than the younger individuals in your career field. Do not let a few wrinkles or sagging skin get in the way of your success. If you want to restore a more youthful appearance that reflects how you feel and see yourself, come visit Dr. Joseph Rousso and his team for a facial rejuvenation consultation. Call our office in NYC to learn more about our male plastic surgery and non-surgical anti-aging treatments.
Posted on behalf of New York Facial Plastic Surgery
247 Third Avenue #404
New York, NY 10010
Phone: (212) 381-6110