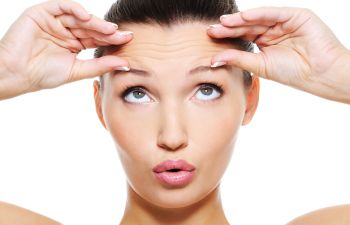 Five finger forehead (or "fivehead") is a term used to describe a forehead that is the span of five fingers or more. While some people embrace this feature, others are embarrassed by it because they don't like the appearance of a large forehead. If you're in the latter group, there is hope for you still.  Our New York City facial plastic surgeon offers forehead reduction surgery to give you the confidence you've always wanted.
Forehead Reduction Surgery
Oftentimes the forehead looks large due to a receding hairline. With forehead reduction surgery we lower the hairline and create a more balanced symmetry to the face.
The procedure involves removing healthy hair follicles from other parts of your scalp and transplanting them into the recessed area, resulting in new hair growth. You can add as much as two inches to get the appearance of a smaller forehead.
Changes aren't immediate but if you're patient with your recovery, you'll see a big difference that can be life changing.
Who Can Get Forehead Reduction Surgery?
This procedure works best on people who have experienced thinning and receding hair, which has slowed down within the last year.  This way we know it's the right time to do your transplant and you won't continue to lose more hair.
Forehead Reduction in New York City
Five finger forehead affects both men and women alike.  If you're tired of hiding behind bangs or constantly wearing a hat, give Joseph J. Rousso, MD FACS, our Manhattan facial plastic surgeon a call today.  We love changing lives and look forward to becoming a part of your transformation.
Posted on behalf of New York Facial Plastic Surgery
247 Third Avenue #404
New York, NY 10010
Phone: (212) 381-6110