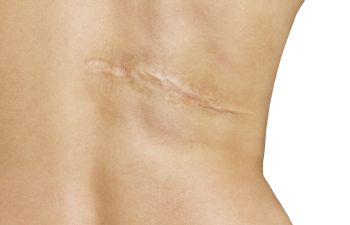 It is common for scars to remain after a wound has healed. Injuries or surgery result in scar development, thus making them unpredictable. Scarring from poor healing can be obvious, unsightly or even disfiguring. You can have a scar even after a wound heals well, which affects your appearance. They may be noticeable due to their size, shape or location. Scars may also appear raised or depressed and may differ in color or texture from healthy tissue.
Skin discoloration remaining after acne outbreaks is also a form of facial scarring. Normal fine line scars can cause hyperpigmentation, a condition in which there is too much color in the skin.
A minor wound like a cut will usually heal leaving a raised line, which will gradually fade and flatten over time. Scar revision surgery will attempt to minimize a scar so that it is less conspicuous and blends in with the surrounding skin tone and texture.
Treatment Options
Although scars form as a natural part of the healing process your body uses to repair and close wounds, they are often an unwelcome reminder of a previous injury or surgical procedure.
The depth, location and nature of a skin wound often influence the appearance of a scar. There are a variety of treatment options for scarring. Over-the-counter creams have become popular in the last several years, but these usually need to be applied in the first six months after the scar occurs.
Vitamin E and Aloe
Supplements such as aloe vera have helped scars with hydration. Vitamin E also is a natural suave. These topical ointments can help, but if you feel you need expert help, contact Dr. Joseph J. Rousso at Manhattan Facial Plastic Surgery. Dr. Rousso will give a detailed treatment consultation to answer any questions you may have about scar revision surgery.
Posted on behalf of New York Facial Plastic Surgery
247 Third Avenue #404
New York, NY 10010
Phone: (212) 381-6110