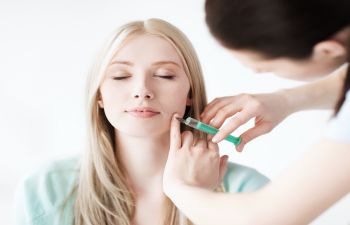 Many of us want to rejuvenate our appearance, yet may not wish to undergo invasive surgery like a face lift. There can be many reasons for this, such as not wishing to financially commit to plastic surgery without knowing the just how the final results will appear.
The recovery period associated with plastic surgery could also be a dissuading factor to those with busy lives. Social, employment and family commitments may mean they just do not have the time to achieve the aesthetic goal of their dreams.
Injectables & Fillers
Injectables and fillers are the perfect solution to these problems. A key aspect of injectables and fillers is that they are minimally invasive. There is also very little downtime, and few side effects aside from possible minor bruising at the injection site. The appointment itself does not require an extensive time commitment, as many treatments can be completed in as little as half an hour.
Most importantly, the results from injectables and fillers can provide long-lasting, luxurious results for many months before the treatment needs to be repeated. At Joseph Rousso's Manhattan office, we find that many patients choose to experiment with the effects of injectables and fillers before committing to other plastic procedures.
Types of Injectables & Fillers
There are several different kinds of injectables and fillers depending on the cosmetic outcome you wish to achieve. For instance, Kybella® can be used as an alternative to liposuction for addressing fat accumulation under the chin. Kybella works by targeting fat cells under the chin, causing them to be destroyed and reabsorbed into the body.
Botox® is a very well-known facial injection procedure, with millions of treatments performed in the US every year. Botox is commonly used to stop wrinkles and lines forming on the forehead and between the brows, but can also be used on crow's feet and smile lines. The injectable dermal filler Belotero® adds volume under the skin to plump up the vertical lines around the mouth and nasolabial lines. This creates a smoother, more youthful appearance.
Joseph Russo offers a skilled and expert hand to achieve the best results from the most appropriate injectable and filler for each patient. Contact his Manhattan office today to arrange an appointment.
Posted on behalf of New York Facial Plastic Surgery
247 Third Avenue #404
New York, NY 10010
Phone: (212) 381-6110