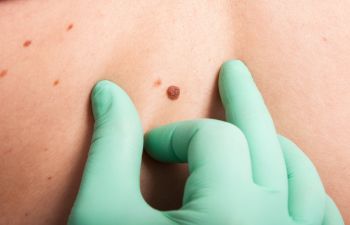 Moles are patches of skin cells that can appear anywhere on the body. They are usually a darker color than the rest of the natural complexion. It is important to regularly check moles, as they can become cancerous.
Keeping moles healthy involves limiting their exposure to UV light. This means staying out of the sun during the hottest part of the day, keeping the mole covered with clothing and applying a high-factor sunscreen. You must avoid using sunbeds, as these exclusively use UV lights. Facial moles are harder to protect, as your face is consistently exposed to the elements.
Be Aware of These Changes to Your Facial Mole
Moles can appear at any time. You may have a facial mole at birth, or it could appear as you age. Moles can also fade or disappear over time. Some conditions, such as pregnancy, can cause moles to appear darker, but this is no cause for alarm.
If your mole changes shape and looks uneven, this could indicate the presence of cancerous cells. Changes in the coloration of the mole, or the mole developing more than two colors should be brought to the attention of a medical professional. Your facial mole should not itch or bleed, and should not have a crusty or flaking exterior. Moles should not suddenly increase in size or appear more raised from the skin than usual.
Otherwise, facial moles can have a wide range of appearances.  Most moles will have a smooth, defined edge and will appear oval shaped or round. They can lay flat against the skin, or may appear somewhat raised. Moles can feel smooth to the touch or can have a rough texture. Some moles contain hair follicles, and will produce hairs.
Speak to Doctor Joseph Rousso About Your Facial Mole
If you are concerned about changes to your facial mole, you should seek medical attention immediately. Your doctor may recommend that your mole be removed. Some people consider their facial mole to be an attractive feature, but others do not like the appearance, positioning or feel of their mole.
Doctor Joseph Rousso is a top-rated plastic surgeon in Manhattan who can assist you with mole removal in a quick, painless and non-invasive procedure. Contact his New York City office today to discuss your treatment options.
Posted on behalf of New York Facial Plastic Surgery
247 Third Avenue #404
New York, NY 10010
Phone: (212) 381-6110