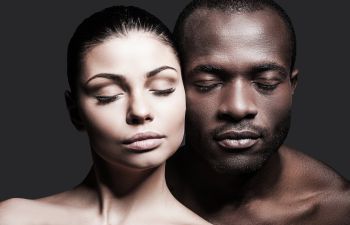 Plastic surgeons are concerned with how the bodily and facial features impact on confidence and attraction. When others are physically drawn to you, your social experience offers greater benefits. For some people, "good looks" mean attracting a larger number of potential partners. Alternatively, you may find that job opportunities are more abundant when your appearance is appealing or disarming.
These benefits are the result of evolutionary phycology. Certain elements of facial features are more likely to solicit attraction. Noticing these genetic advantages is often an unconscious act, given that humans are predisposed to favor specific traits that are deemed crucial to survival and reproduction.
Symmetry
When it comes to human features, symmetry is one of the most desirable traits. Good symmetry is associated with health, mate selection and higher probability of survival. This attraction likely stems from the fact that symmetrical features indicated a higher probability of survival in early human ancestors.
The attraction aspect of symmetry is suspected to be a byproduct of mating preference. In studies, participants were more likely to find symmetrically appealing individuals attractive simply because there is a strong association with longevity.
Balanced Features
Balance has always played an important role in how humans live. From what you eat to the activities that bring you joy, there is always a balance. When your facial features complement each other, symmetry is achieved. However, a prominent feature that throws off that balance can detract from an otherwise beautiful face.
The facial features are typically the most visible. You cannot use clothing to mask the lips, nose, chin and ears, so all your perceived flaws are permanently on display. It is possible to restore balance by enhancing or reducing the impact of a particular feature. An experienced plastic surgeon can help you achieve the symmetry and balance that will open doors to new opportunities.
Symmetry & Balance Consultation
If you are concerned that your facial features are getting in the way of social or work opportunities, a consultation with Dr. Joseph J. Rousso can provide solutions. Call our New York City offices today to book your first appointment.
Posted on behalf of New York Facial Plastic Surgery
247 Third Avenue #404
New York, NY 10010
Phone: (212) 381-6110