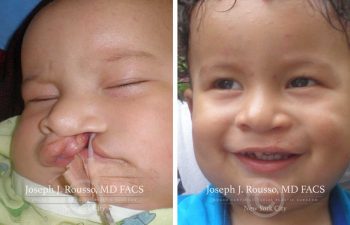 A cleft lip and palate (roof of the mouth) can affect our children in more ways than we may think. A cleft lip and palate vary from child to child. Your child may have a cleft lip, a cleft palate or both, and it presents differently in each child. The physical appearance of a cleft lip can affect the mental well-being of children and their parents.
A Cleft Lip and Palate is More Than a Physical Condition
Cleft lip and palate surgery is usually performed around three to four months of age. The goal of cleft lip and palate surgery is to restore normal appearance and function to the upper lip, to improve a child's ability to eat, speak and hear.
Aside from the physical appearance of a cleft lip, there is also a range of functional difficulties that come with a cleft lip and palate. These include:
Feeding difficulties, especially with breastfeeding
Ear infections, which can lead to hearing loss such as glue ear
Speech and language delay
Dental problems
Breathing difficulties
Why it's Important to Choose a Well-Experienced Surgeon
Cleft lip and palate surgery makes a vast improvement to a child's quality of life and it will affect the child for the rest of their life. Such a pivotal procedure requires that parents choose their surgeon carefully to make sure he or she is experienced and gives good results.
Cleft lip and palate surgery is much more than a simple skin graft. It involves detaching and repositioning the muscle of the lip to recreate the circular muscle around the mouth, and to allow for correct movements of the lips required for talking and eating.
A range of surgical repair options offered by Dr. Joseph J. Rousso can include:
Cleft lip repair
Cleft palate repair
Pharyngeal flap surgery
Sphincter Pharyngoplasty
Velopharyngeal Insufficiency Surgery (VPI)
Submucous Cleft Palate Repair
Speech Surgery
Furlow Palatoplasty
Minimally invasive pharyngeal augmentation
Why Choose Dr. Joseph J. Rousso for Your Child?
Joseph J. Rousso MD, FACS, is a world-renowned expert in the most cutting-edge and current techniques for the best aesthetic results in cleft and palate reconstruction surgery.
He is the co-director of the cleft lip, palate and microtia team of the New York Eye and Ear Infirmary of Mount Sinai Hospital in New York. Dr. Rousso has performed cleft lip and palate surgeries around the world and has lectured on his techniques for optimal aesthetic lip and palate reconstruction.
Click here to see Dr. Joseph J. Rousso's before and after cleft lip and palate reconstruction surgery pictures.
To learn more about how we can help your child regain normal function and appearance of their lip and palate, contact our office in New York City to schedule a consultation with Dr. Rousso.
Posted on behalf of New York Facial Plastic Surgery
247 Third Avenue #404
New York, NY 10010
Phone: (212) 381-6110