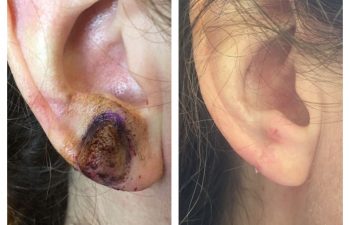 Earlobe injuries are more common than most people realize. Damaged ear cartilage can cause structural imperfections, gauging leaves large holes in the earlobe and ripped ears may lead to lasting deformities. Moreover, the majority of ear-related traumas stem from a small number of activities in human social lives.
While this list is not exhaustive, these three issues are responsible for a large number of ear injuries that require surgical correction.
Earring Tears
Earrings can easily catch on materials without warning, which can result in localized tearing of ear tissue. In severe cases, an earring may completely spit surrounding tissue, leaving an injury that requires surgery to reconnect the tissue. Wearing earrings while engaged in sports or a physical confrontation are also common causes of injuries.
Earlobe Gauging
If you practice earlobe stretching with plugs, rather than earrings, larger adornments will stretch the earlobe beyond natural repair. In most cases, tissue that is stretched beyond five millimeters will not close without surgery. It is important to consult with an experienced plastic surgeon if you no longer wish to wear plugs in your earlobes.
Sports Injuries
Almost every high-paced sport comes with the risk of suffering ear injuries. This is especially true of combat sports that involve striking or grappling. The ears either suffer deliberate collateral damage in sports such as mixed martial arts, depending on which discipline the fighter employs. Other sports including soccer, football and rugby can leave athletes vulnerable to serious ear injuries.
Ear Repair with Plastic Surgery
The good news is there are several procedures that can repair damage to ears from tears, splits and gouging. At the New York City facial plastic surgery offices of Dr. Joseph J. Rousso, effective and permanent solutions are available. Call today to discuss your treatment needs.
Posted on behalf of New York Facial Plastic Surgery
247 Third Avenue #404
New York, NY 10010
Phone: (212) 381-6110