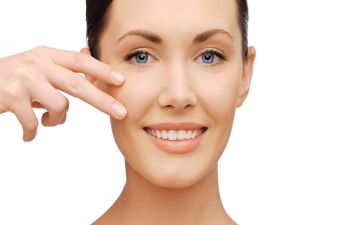 The eyes, lips, nose and eyebrows get the most attention when it comes to cosmetic procedures. While these are important facial features, when the cheeks are not well contoured, it can make the entire face look less youthful, alert and attractive. Making changes to your cheeks can take years off your face and bring positive attention to those other key facial features. Here are five of the top cheek rejuvenation procedures we offer through the practice of Joseph J. Rousso, MD.
1. Cheek Lift
Also known as a midface lift, the cheek lift can reposition the buccal fat pads in the cheek, elevating them to create a more youthful appearance. This can smooth deep nasolabial folds and help minimize hollows or bags under the eyes.
2. Cheek Implants
Like the cheek lift, cheek implants can be used to accentuate the cheekbone and create more alluring contours to the face. The incision can be placed inside the cheek for a discreet enhancement to the midface.
3. Fat Transfer
Loss of fat in the cheeks can make the face look gaunt and older. Fat transfer to the cheek area can bring back a soft, more youthful appearance. Fat can be harvested from another area of the body and grafted or injected into the cheeks. With the right placement, fat transfer can fill the hollows under the eyes for a more alert look.
4. Nasolabial Fold Injections
The nasolabial folds or smile lines around the nose and mouth can age the face. Facial filler injections can temporarily smooth these lines without downtime or recovery.
5. Non-Surgical Cheek Augmentation
If you want more volume in your cheeks without fat transfer or implants, dermal filler can provide a non-surgical cheek augmentation. This can have similar effects as implants or fat injections, without the downtime, but the results are temporary.
Reshaping, lifting or enhancing the cheeks can bring more attention to your eyes and lips, and less attention to lines and hollows in your face. If you are interested in cheek cosmetic surgery or non-surgical cheek treatments, contact us at Joseph J. Rousso, MD Facial Plastic Surgery in Manhattan, NY.
Posted on behalf of New York Facial Plastic Surgery
247 Third Avenue #404
New York, NY 10010
Phone: (212) 381-6110