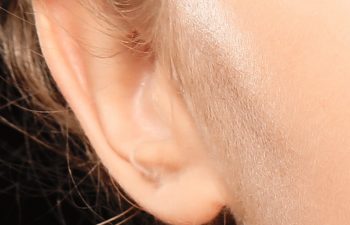 If you've noticed your ear lobe starting to sag or pull from years of wearing heavy earrings, or had an injury where your lobe was physically torn somehow — whether partially or completely — it's possible to have the area repaired. Repairs are also a great option for individuals that used to wear gauges but choose to go back to a more natural look.
How Can My Earlobe be Repaired?
Earlobe repair surgery usually takes less than half an hour to complete. Because it's an outpatient procedure, it's also a fairly affordable one.
Dr. Rousso will numb your ear with a small amount of topical anesthetic to keep you comfortable. Then, he will remove the excess skin that is inside of the actual tear or stretched earlobe, which naturally makes the earlobe smaller. For a completely torn area, a few sutures will be needed to connect both the inner and outer tissues of your earlobe back together.
When Can I Wear Earrings Again?
We can place a temporary spacer in the earlobe, so that you can wear conservative jewelry as soon as after six weeks post surgery. It's best to select lightweight studs, so that heavier earrings do not tug and pull not he area that has just been repaired. Over time, you may be able to wear slightly heavier earrings.
Earlobe Surgery in Manhattan and Queens
Perhaps you can't wear earrings at all, due to a complete tear in your earlobe. Or, the excessive stretching has left you trying to hide your ears by wearing your hair down over them.
Torn earlobe repair with our double board certified surgeon can have you enjoying your favorite jewelry again with a simple, outpatient procedure. Schedule a consultation today!
Posted on behalf of New York Facial Plastic Surgery
247 Third Avenue #404
New York, NY 10010
Phone: (212) 381-6110