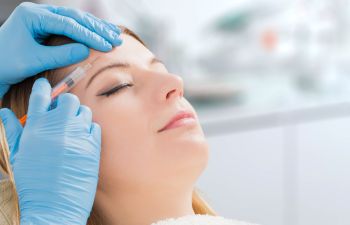 As a double-board certified facial and plastic surgeon, Dr. Joseph J. Rousso is an expert when it comes to helping our NYC cosmetic patients select products and treatments that best enhance their appearance. When it comes to non-surgical options like injectables and fillers, the voices can seem overwhelming.
Here are some of the most common cosmetic injectables that we offer in Manhattan, so you can better identify the one that might be right for you:
Botox — Our top facial injectable, Botox is ideal for treating fine lines and wrinkles.
Belotero — Adds volume in areas of fine lines while blending with the natural shape of your face.
Juvederm — An effective dermal filler designed for treating aging skin symptoms like wrinkles and lines.
Restylane — Designed for use around the nose, eyes, and mouth, for a more youthful appearance.
Kybella — An alternative to liposuction, treating fatty tissues under the chin.
Xeomin — Comparable to Botox and Dysport, Xeomin is a neurotoxin that treats deep lines along the forehead and around the eyes.
Sculptra — For shallow facial lines and wrinkles.
Dysport — Similar to Botox, but better for larger areas or thicker muscle tissue.
Radiesse — Contains calcium hydroxyapatite to be more effective at increasing collagen production (for deep wrinkles.)
Voluma — Treats aging issues in the mid face area, lasting up to two years per application.
One, Two, or a Few?
Our cosmetic injectables and dermal fillers are great for stand-alone treatments or can be combined with one another for extended fuller results. Schedule a consultation with Dr. Rousso today for the best cosmetic and facial plastics care in the greater Staten Island, Manhattan, and Queens areas.
Posted on behalf of New York Facial Plastic Surgery
247 Third Avenue #404
New York, NY 10010
Phone: (212) 381-6110