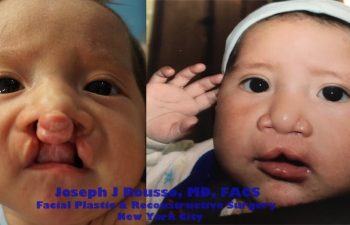 Cleft lip and palate is a birth deformity that's seen when the lip and roof of the mouth don't fuse properly during gestation. It leaves an opening between different portions of the face, lips, or roof of the mouth.
In fact, there are over 17,000 known genes that contribute to the craniofacial development. It's no wonder that this condition is among the most common birth defects worldwide.
This condition doesn't discriminate and can occur in any nationality, race, or ethnic group. Children that have a cleft lip and palate are more likely to have problems with malnutrition, ear infections, hearing loss, dental health, speech, and swallowing.
Cleft Lip and Cleft Palate Surgery
Sometimes a child will only have a cleft palate (roof of the mouth) while other babies are born with both a cleft palate and lip. Since there are different varieties of cleft lip and palate, several surgeries to correct the issue are available.
Dr. Rousso is a world-renowned facial plastic and reconstructive surgeon with extensive experience and expertise in cleft lip and palate surgeries. However, aesthetics is only a part of the problem. Treating this condition fully, requires the hands of a team of experts. Therefore, Dr. Rousso works with multiple medical and surgical specialists as well as nursing, speech and feeding professionals who use cutting-edge techniques and procedures to achieve the best look and functional outcome.
If your child was born with a cleft lip or palate, then come and see our New York City facial plastic surgeon.  We'll gladly visit with you and your little one for a consultation to determine the best course of action. Call today.
Posted on behalf of New York Facial Plastic Surgery
247 Third Avenue #404
New York, NY 10010
Phone: (212) 381-6110