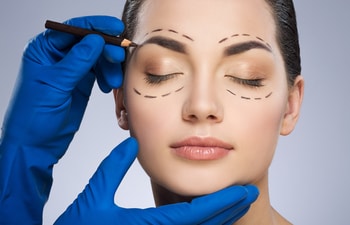 If you've avoided talking to a plastic surgeon about a forehead, brow, or facelift because you don't like the idea of having a surgery along your hairline, there's another option to consider.
Double board certified plastic surgeon Dr. Joseph J. Rousso MD FACS offers an alternative lift procedure called the "midforehead browlift." This particular lift is made by using a small incision along the middle of the forehead, tensing the skin from both above and below it. As such, Dr. Rousso can also lift the brows as necessary to suggest a younger and more aesthetically pleasing appearance.
What About the Incision Site?
A midforehead browlift "hides" the incision area inside of a natural crease in the forehead, called the central rhytids. Although it may be possible to see more easily if you're looking closely in mirror, the minimally scarring is less noticeable than what most people assume it will be.
Treating Droopy Brows
As we age, gravity takes a toll on our physical appearance; especially around the eyes. Droopy eyebrows may even contribute to ptosis of the eyelids, which interfere with our vision if severe enough.
Mechanically lifting the brows through the use of a midforehead browlift lessens the amount of excess tissue above the eyelids, reducing ptosis and puffy looking eyes.
Schedule a Consultation in Manhattan, Queens
Dr. Rousso is certified by both the American Board of Facial Plastic and Reconstructive Surgery and the American Board of Otolaryngology- Head & Neck Surgery. His extensive training and experience make him one of the best midforehead browlift surgeons in the greater NYC area. We invite you to schedule a consultation to learn more about this and other alternative brow lift surgeries.
Posted on behalf of New York Facial Plastic Surgery
247 Third Avenue #404
New York, NY 10010
Phone: (212) 381-6110