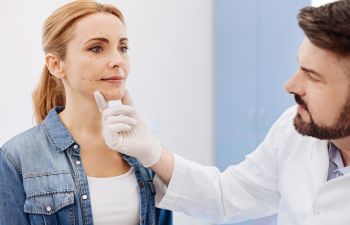 For unknown reasons, you may suddenly find you have muscle weakness on one side of your face. Half your face droops, you smile is lopsided and you can no longer close the eye on that side of your face. These symptoms sound like those a stroke victim may experience, and it may be the case for some; however, acute peripheral facial palsy, or Bell's palsy as it is more commonly called, can occur for unknown reasons at any age.
Bell's palsy may be the result of a viral infection. It is also thought that complications of Lyme disease can trigger the condition. Swelling and inflammation of the nerves that control one side of your face may cause the muscles to become weak, leaving that side of your face drooping.
The majority of individuals experiencing Bell's palsy only need wait a few weeks, and the symptoms will begin to resolve on their own. Most see a complete recovery by six weeks or so. Sadly, not everyone is so fortunate. There are some individuals who will have to live with this condition.
Rapid Onset of Symptoms
Within days or sometimes even hours, Bell's palsy causes paralysis on one side of your face. Smiling, closing your eye and making facial expressions are affected. You may experience headache or have pain behind your ear or around your jaw on the paralyzed side of your face. Drooling can be an embarrassing symptom of the condition. You may be unable to taste food anymore.
Living with the symptoms of Bell's palsy can be challenging to accept, especially when the condition lingers and seems to be permanent. You may find your self-confidence slipping away a little more each day. Fortunately, there are procedures that can help change your situation.
Exploring Your Options
If Bell's palsy causes permanent damage to your face, you have options for improving your appearance and restoring some of the mobility and function of those muscles. Surgical procedures can make a world of difference. Not only can some function be improved with surgery, you may be able to have your smile restored. A natural, balanced look may be achievable.
If you experience facial paralysis, contact the office of Dr. Joseph J. Rousso and schedule an appointment for a consultation. Find out how reconstructive surgery for facial paralysis correction can help restore your appearance and your self-confidence.
Posted on behalf of New York Facial Plastic Surgery
247 Third Avenue #404
New York, NY 10010
Phone: (212) 381-6110